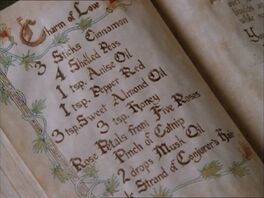 == Appendices== (Book of Shadows text:)
Charm of LoveEdit
3 Sticks Cinnamon
4 Shelled Peas
1 tsp. Anise Oil
1 tsp. Pepper Red
3 tsp. Sweet Almond Oil
3 tsp. Honey
Rose Petals from Five Roses
Pinch of Catnip
2 drops Musk Oil
Single Strand of Conjurer's Hair
---
Mix ingredients gently
over low heat until all
liquids are cooked down,
while reciting spell.
Your ideal Love will
soon contact you.
Ad blocker interference detected!
Wikia is a free-to-use site that makes money from advertising. We have a modified experience for viewers using ad blockers

Wikia is not accessible if you've made further modifications. Remove the custom ad blocker rule(s) and the page will load as expected.