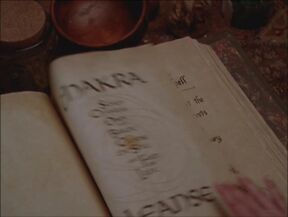 In 2004, Paige Matthews wanted to help her boyfriend Richard Montana improve his karma he believed had been damaged by his family's war. She told him the Book of Shadows had a "Chakra Cleanse", an "Aura Cleanse", but no karma cleanse. He later decided to use the Aura Cleanse spell, but replaced "aura" with "karma".
AppendicesEdit
(Book of Shadows text:)
Chakra CleanseEdit
Chakra
Seven
Chakras
Open
and
Bright
Cleanse
the Soul
and Feed
the
Light
Cleanse
Ad blocker interference detected!
Wikia is a free-to-use site that makes money from advertising. We have a modified experience for viewers using ad blockers

Wikia is not accessible if you've made further modifications. Remove the custom ad blocker rule(s) and the page will load as expected.