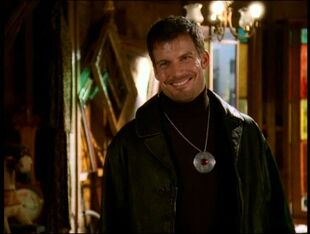 Bosk was a sinister Low Level Demon with minimal powers. He rode a magical, flying carpet and shot light darts at his victims as a method of attack.
He had been using his Demonic Forty Thieves to search for the former site of Zanbar. If he found it and wished it back, there would be no stopping him, he would become invincible. Bosk used Jinny's bottle to try to find the city, but the Genie was lost to the Charmed One. Bosk was protected from witches magic using the Eye of Aghbar. Soon he was vanquished by Jinny, who wanted the power that would come with locating Zanbar for herself.
AppendicesEdit
(Book of Shadows text:)
A sinister low level demon who attacks by shooting light darts at his victims.
He can be vanquished with the following ingredients:
Dark Roasted
Keeled Bladderpod
Ad blocker interference detected!
Wikia is a free-to-use site that makes money from advertising. We have a modified experience for viewers using ad blockers

Wikia is not accessible if you've made further modifications. Remove the custom ad blocker rule(s) and the page will load as expected.