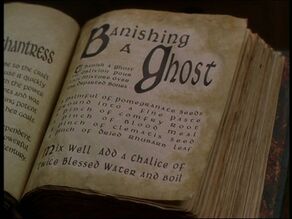 Aside from casting a spell to vanquish a Ghost, there is a second option. A potion can be made to banish a ghost for eternity. However, it needs to be poured over the remains of the spirit's body in order to work.
AppendicesEdit
(Book of Shadows text:)
Banishing a GhostEdit
To Banish a ghost
to oblivion pour
this mixture over
the departed bones
a palmful of pomegranate seeds
ground into a fine paste
a pinch of comfry root
a pinch of blood meal
a pinch of clematis seed
a pinch of dried rhubarb leaf
Mix well, add a chalice of
Twice Blessed water and boil.
Ad blocker interference detected!
Wikia is a free-to-use site that makes money from advertising. We have a modified experience for viewers using ad blockers

Wikia is not accessible if you've made further modifications. Remove the custom ad blocker rule(s) and the page will load as expected.